When prospective clients are looking for a lawyer, 21.9 percent start with a search engine, according to Lawyernomics. If you want to capture that traffic, optimizing your online presence is essential. SEO is critical to converting online searchers into prospective legal clients.
RCS Technology Solutions, LLC recommends that law firms focus on these areas of SEO:
Target Local Keywords
Secure Inclusion in Google Places and Other Local Directories
Silo by Practice Areas
Optimize the User Experience
1. Target Local Keywords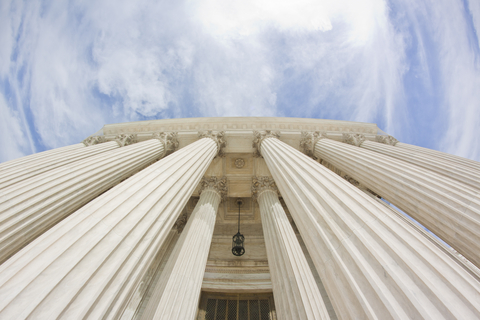 Legal Internet marketing is exceedingly competitive, so if you're just starting out it's important to establish your firm as a brand and market to your immediate location.
If you're starting from scratch, it's important to set your expectations accordingly. You're not going to come in and start ranking for 'Los Angeles personal injury attorney' right away. Start thinking in terms of years if you're trying to rank for such a highly competitive term.
In the meantime, set your sights on local traffic. Let's say you're a personal injury attorney serving clients throughout Southern California. You're based in Thousand Oaks, a city in Ventura County (neighbor to Los Angeles County). Though you'll eventually target "Ventura County personal injury attorney" and later, "Los Angeles personal injury attorney," when you begin optimizing, target keyword phrases like:
Thousand Oaks accident lawyer
Thousand Oaks law firm
Personal injury attorney Thousand Oaks
Your best shot at early success is to capture the traffic in your city. Targeting more competitive regions should be part of your long-term plan, but it should be done after you've secured branded traffic and start to rank prominently for searches in and around your physical location.
2. Inclusion in Google Places and Other Directories
The next step when it comes to thinking locally is securing inclusion in Google Places and other local directories. Establishing a local listing in Google Places allows your law firm to appear prominently on the SERP, within Google Maps and in the Local Carousel.
You want to rank in those maps for your immediate area. Getting into maps is going to be a major source of traffic. Optimize your local listings and invest the time and money to find and gain inclusion in all of the major attorney directories on the Internet. The citations you build will help your listing rank more prominently and the most popular attorney directories online can be a valuable source of traffic.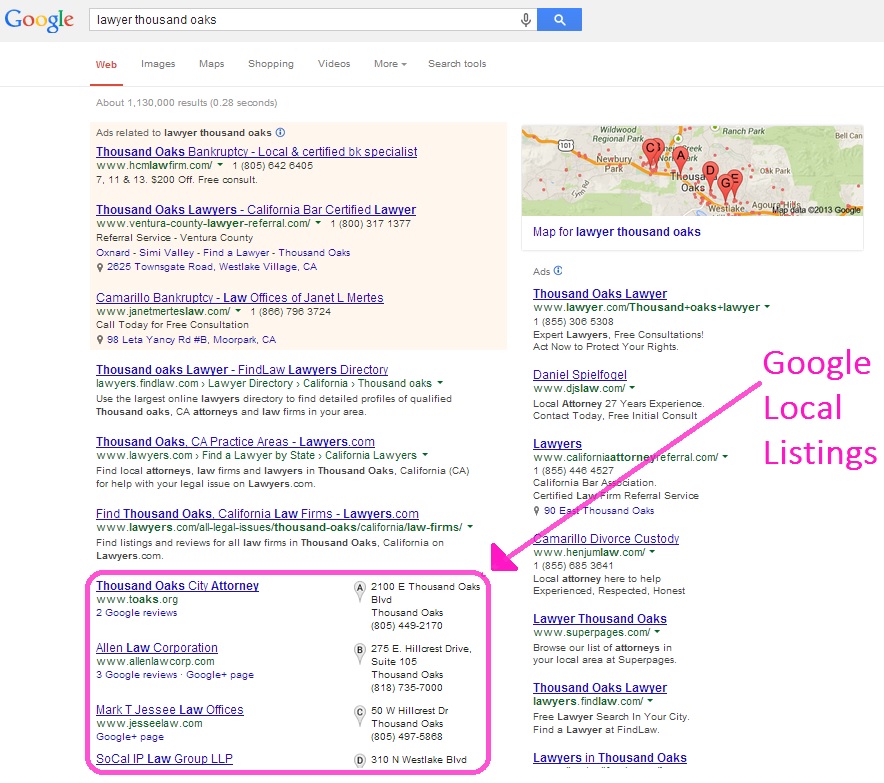 Follow this step-by-step guide to create and optimize your own Google Places local listing.
3. Silo by Practice Areas
It's imperative that law firms silo their sites according to practice areas.
Devote a lot of content to your practice areas. People that are looking for attorneys are doing research, so the more information and insight you can offer about your practice and experience, the better your chances of ranking for varied terms are.
Siloing will differ for each law firm, but in general,  building silos based on practice areas, for example:
Criminal Attorneys
DUI/DWI
Grand Theft
Petty Theft
Burglary
Homicide
Family Law Attorneys
Divorce
Child Support
Child Custody
Emancipation
Personal Injury Attorneys
Bicycle Accidents
Car Accidents
Traumatic Brain Injury
Read more about siloing and why it matters here.
4. Improve the User Experience
Directing traffic to your site is great, but it's not the end goal – the end goal is converting visitors into clients, and that won't happen unless your site is impressive, professional and informative.
A law firm's website should be focused on capturing the people who are vetting you.
Who is vetting you? In addition to the 21.9 percent of people who started their hunt for a law firm with a search engine, Lawyernomics reports there is also the 55.7 percent of people who were referred to your firm by word of mouth — after the referral, they're going to visit a law firm's site. If your site is less than high-quality, you risk losing that potential client.
A good online marketing campaign can do wonders for your practice, but the focus of your website should be on conveying trust and expertise. You want to make sure that your site speaks to visitors and compels them to contact you.
What should a high-quality law firm website include?
Case studies
Case results
Testimonials
Lawyer bios
An informative blog
Engagement objects
Press coverage
In part two of the Legal Marketing Series, discover how to leverage these
https://www.rcstechnologysolutions.com/wp-content/uploads/2018/07/rcslogo.png
0
0
Ronald Couming
https://www.rcstechnologysolutions.com/wp-content/uploads/2018/07/rcslogo.png
Ronald Couming
2014-07-28 06:51:14
2014-07-28 06:51:14
Legal Marketing Series, PART 1