Google Tools (1-4)
Google Keyword Planner was made for Adwords users, but is the most popular Google tool for keyword research. However, here are some more Google tools that can be helpful.
1. Google Webmaster Tools
https://www.google.com/webmasters/tools
Google Webmaster Tools is currently the most accurate way to see what keywords people are using to land on your website. The data is only available for 90 days, so be sure to back it up every few months or so.
Since Google defaults to encrypted search now, Analytics does not show much of the data. With Google Webmaster Tools, however, you can view these encrypted searches.
2. YouTube Keyword Tool
https://www.youtube.com/keyword_tool
YouTube keyword tool will show what video watchers are searching for. Although it may give you less keywords than Google Keyword Planner, it may give you a few more new ideas.
3. Google Correlate
http://www.google.com/trends/correlate
With Google Correlate, you can find keywords that exhibit similar trend patterns to the phrase you type in. A good way to find possible related search terms, although sometimes the terms shown are not related.
4. Adwords
http://www.google.com/adwords
Running your own Adwords campaigns can be beneficial for finding keywords for your organic SEO campaigns. Adwords provides better data than just running Analytics alone.
Other Search Engines (5-7)
1. Bing Keyword tool
http://www.bing.com/toolbox/keywords
I know that Bing and Yahoo search are used significantly less than Google, but Bing keyword tool can still provide a few ideas for keywords and it is free to use. Yahoo and Bing do still get significant search volume (25-29% of search volume according to Comscore in 2013) and it does provide real data from organic search so it is worth looking at.
Despite Google's dominance, Bing and Yahoo (which uses Bing search for its results) still get significant traffic. Enough so that it can provide real and useful keyword data, particularly for terms that have enough volume to be worth targeting.
Considering that Bing still has millions of users, if a keyword doesn't get enough data to show up in Bing's data, is it even worth targeting? To use the Bing Keyword tool, sign up for a Bing Webmaster Tools account.
2. Bing Ads Intelligence (BAI)
Bing Ads Intelligence is an Excel plugin that allows you to do keyword research using Microsoft Excel. It uses Bing's keyword data and can be downloaded here (http://advertise.bingads.microsoft.com/en-us/b/bing-ads-intelligence). Requires Excel 2007 or higher and an active Bing ads account.
BAI was intended as a tool to help people that want to advertise on Bing's network, but it is also a good keyword research tool for SEO's. I like that this tool uses Excel, since Excel is something that pretty much everyone knows how to use. Some useful information includes monthly traffic, demographics data, and other useful information.
3. Nerdy Data
http://www.nerdydata.com
Nerdy Data is a new search engine that launched late in 2013. The keyword search feature allows you to compare search volumes visually.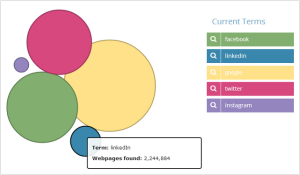 Online Keyword Tools (8-32)
1. SEM Rush
http://www.semrush.com
SEM Rush is a competitor research tool that provides your competitors keywords and where they are ranking. The free version of the tool provides just a few keywords, but the paid version provides a lot more. Simply enter your competitor's website (or your own) to see a list of keywords they are ranking for.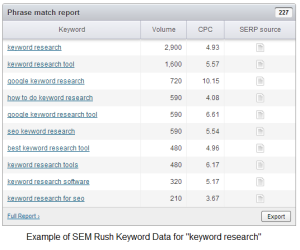 2. Grep Words
http://grepwords.com
Cost: Plans starting at $15 / month
Grepwords has a keyword query builder that allows you to exclude terms, specify starting words, filter by CPC cost, filter by search volumes, and other useful features so you can quickly find the keywords you want. Not only does it give you access to a lot of keywords, but it also allows you to use filters to narrow it down to what you want to see:
3. SerpIQ
https://serpiq.com
Cost: $49/month and up
SerpIQ is more than just a keyword research tool. It was designed to me more of an all in one SEO tool and can find competitors by keywords and analyze their keyword usage.
4. Advanced Web Ranking
http://www.advancedwebranking.com
Advanced Web Ranking is a tool that has been around for awhile and integrates with Majestic SEO's API.
5. Wordtracker
https://freekeywords.wordtracker.com
The Wordtracker keyword tool is free but requires you to create an account. You can start with one keyword and then drill deeper to get more keywords.
6. Merge Words
http://mergewords.com
Merge Words are simple tools that creates combinations out of words or phrases that you enter into the boxes. This can be a convenient tool if you have some words in mind to start with.
7. SEO Book Keyword List Generator
http://tools.seobook.com/keyword-list/generator.php
The SEO Book Keyword List Generator creates combinations from words and phrases, similar to Merge Words.
8. Internet Marketing Ninjas Keyword Combination Tool
http://www.internetmarketingninjas.com/search
This tool combines keywords that you select and shows you all permutations. Another tool that is similar to Merge Words.
9. Moz Keyword Tool
http://moz.com/tools/keyword-difficulty
The Moz Keyword Difficulty tool is part of the Moz Pro Membership package starting at $99 / month.
10. Wordstream Keyword Tool
http://www.wordstream.com/keywords
Wordstream has a few keyword tools that allow you to access their database of over a trillion keywords. You are allowed a limited number of free searches to try out the tool.
11. Keyword Eye
http://www.keywordeye.com
Keyword Eye allows you to analyze on site content, monitor competitors, and simplifies keyword research. One cool feature is that it shows the keywords visually, similar to tag clouds.
12. Keyword Discovery by Trellian
http://www.keyworddiscovery.com/search.html
This tool by Trellian is yet another keyword research tool that has accumulated its own database of keywords through the years.
13. Majestic SEO Keyword Checker
http://www.majesticseo.com/reports/keyword-checker
Majestic SEO has its own keyword checker that they say has never relied on Google's data. This tool will show you how many times the keyword phrase appeared in their own index.
14. Wordpot
http://www.wordpot.com
Wordpot is a keyword tool that maintains its own keyword database. The data is compiled from various search engines. The database has not been updated since 2011 though but can be a good tool to use for evergreen keywords.
15. Long Tail Pro / Platinum
http://www.longtailpro.com
Cost: $97
Long Tail Pro uses Moz's data and is a competitor to Market Samurai. It is another popular tool for keyword research.
16. Web CEO
http://www.webceo.com
Web CEO is another paid keyword tool. They didn't specify where they get their keyword data from.
17. Positionly
https://positionly.com
Positionly is an all in one SEO suite that is designed for the non-technical website user and includes a keyword research tool.
18. Term Explorer
http://termexplorer.com
Term Explorer can give you up to a thousand keywords with exact match search volumes and also shows you if exact match domains are available for purchase. The paid version will allow you to do more than 5 searches a day and get more than 1,000 keywords per search. You can also download results as csv or pdf.
19. Colibri.io
http://colibri.io
An SEO suite with a keyword research tool set launched in February 2014. The updated Colibri tool can crawl your website for keyword ideas and also compare you to your competitors.
20. Wordze
http://www.wordze.com
A paid tool that may not be working any more. Paypal certificate is expired.
21. Jaaxy
http://www.jaaxy.com
Cost: $19 / month and up. Free trial version limited to 30 searches.
Jaaxy has been around since around 2011 and according to the Jaaxy blog, it gets its search volume by analyzing data from all search engines and using their algorithm to determine volume numbers that are closer to the actual volumes. It also has some competitive analysis features and a brainstorming tool to come upwith new ideas.
22. SE Cockpit
https://swissmademarketing.com/secockpit
Cost: $97/month and up.
SE Cockpit by Swiss Made Marketing generates tons of phrases in a short amount of time from just one keyword entry. Data is gathered from Google related searches, Adwords, and Google Suggestions. Other data provided includes estimated Adsense earnings, competitor Adwords data and traffic volume estimates.
23. Seed Keywords
http://www.seedkeywords.com
Seed Keywords is a unique tool that allows you to leverage friends or your own audience to come up with keyword ideas. Simply come up with a question or query, send the URL to your list, and watch your keyword list grow as they add keywords to the list. A great way to brainstorm with a group of people and come up with phrases that people will naturally search for.
24. Keyword Canine
http://www.keywordcanine.com
Cost: $47/month or $297 / year
Keyword Canine is a tool that provides competitive analysis with each keyword. Phrases that are easier to rank for are marked with a green color and difficult phrase are red, enabling you to target low competition, high volume phrases. Can also analyze competitor backlinks and has other features. They have a site boost feature as well with which they promote your content for you, although it is not clear how that feature works.
25. Keyword Revealer
http://www.keywordrevealer.com/home.php
Keyword Revealer is a new tool that is currently in the beta stage and is free for now as of April 2014. Asides from revealing lots of long tail keywords, this tool calculates keyword difficulty score and locates keywords that are easy to rank for.
Keyword Suggestion Tools (33-41)
When people start typing something into a search engine, it suggest possible phrases that they might be looking for. The tools in this list leverage the power of keyword suggestions.
1. Ubersuggest
http://ubersuggest.org
You can also go to Ubersuggest and use their free tool to save some time, although Google keyword suggestion is a good tool for digging a little deeper and finding more keywords.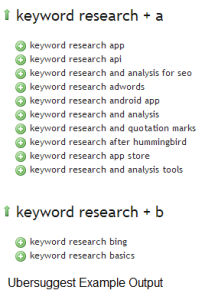 2. Google Keyword Suggestion
When you are typing in the Google search box, it suggests keywords for you. Even when Google Keyword Tool was still providing a lot of data, I was still using Google keyword suggestions to generate content ideas because it provided way more keywords than the keyword tool.
I usually start with a base keyword and just start typing. Then follow up with each letter in the alphabet. You get the idea…
3. Keyword Snatcher
http://keywordsnatcher.com
Cost: $49
Keyword Snatcher scrapes keyword suggestions from multiple sources including Google, Yahoo, Bing, Amazon and eBay. It's like Ubersuggest on steroids.
What makes it better than Ubersuggest is that it goes deeper by trying out other combinations. This tool has a one time cost for lifetime access, but can provide tons of keywords.
4. HQ Suggest
http://hqsuggest.com
Cost: $9
A desktop tool that attempts to provide keyword data by 3 main methods:
1) Keyword suggestions from 9 search engines including Amazon, Answer, Ask, Bing, Ebay, Google, Wild, Yahoo and YouTube.
Keyword and product searches are available. Adds 1-2 letters of the alphabet after each keyword phrase and 1-2 letters before the phrase and scrapes the keywords into a file.
2) "Question related searches" designed to take advantage of Google's Hummingbird update.
3) "How to" searches – Comes up with lots of how to topics that you can use to create content.
5. SEO Chat Keyword tool
http://tools.seochat.com/tools/suggest-tool
If you are looking for a free alternative to the keyword suggestion tool scrapers out there, then try out SEO Chat's Keyword tool. It gets keyword suggestions from Google, Bing, Amazon (good for commercial searches) and/or YouTube (entertainment searches).
6. Freshkey
http://freshkey.com
Cost: $20
Amazon keyword suggestion tool. Although this tool was designed to come up with niche ideas for Kindle books, it can also be used for commercial keyword research for some niches.
7. Soolve
http://soovle.com
This tool uses keyword suggestions from several places, including Wikipedia, the major search engines, and Answers.com.
8. Keywordsuggest.org
http://keywordsuggest.org
This tool allows you to search for a keyword and provides a few keyword ideas. Click on each new idea to expand the branch to reveal even more ideas.
9. Keyword Tool Dominator
http://www.keywordtooldominator.com
This tool uses auto suggest from Google, eBay, Bing, Amazon and Google Products. You can then download the results.
http://rcstechnologysolutions.com/wp-content/uploads/2018/07/rcslogo.png
0
0
Ronald Couming
http://rcstechnologysolutions.com/wp-content/uploads/2018/07/rcslogo.png
Ronald Couming
2014-05-06 15:30:41
2016-06-24 01:31:11
70+ Keyword Research Tool Alternatives to Google Keyword Planner, Pt 1 of 2